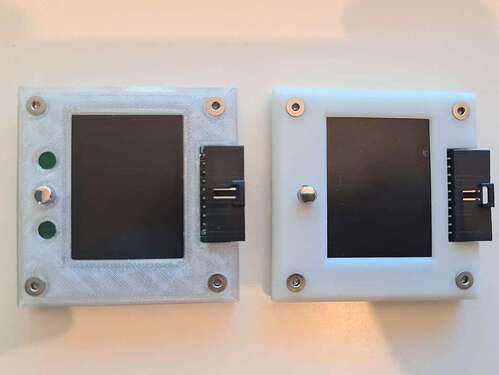 Bus Pirate 5 has 16 RGB LEDs (and just one button!) and is intended to go in a transparent/translucent case. I printed the initial cases in PETG with a Prussa Mini, and last week we send the final version off to Dirty PCB's SLA supplier.
The fit wasn't quite right, about 0.2mm gap where the shell meets. We made three modifications to test: +0.2mm PCB spacing, +0.2mm LCD spacing, and one with both. Using a bare PCB in the enclosure pretty much confirmed there is a small PCB spacing issue. These prints went out Thursday, we would have tested on Friday but deliveries were canceled because of the typhoon.
After confirming the fit, and honestly I'm happy as it exists now, we'll open up tooling with the mold manufacturer. It'll probably take at least a month until we have samples. We're having the mold made for PP material, and we can choose a tint for the translucent effect (smokey grey maybe?).