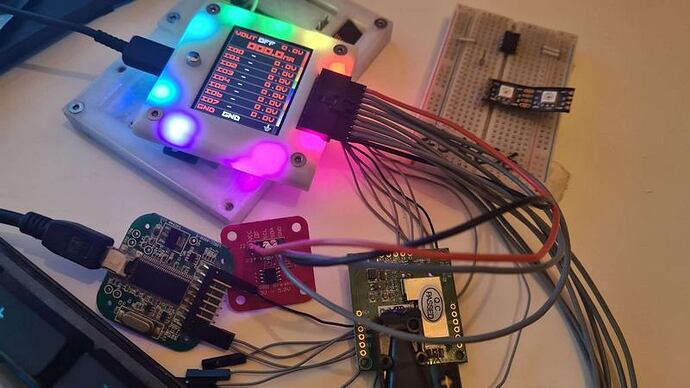 Welcome if you found your way here from Hacker News!
The Bus Pirate is a universal serial interface tool that makes talking to chips fast and easy. It was a collection of scripts I wrote in grad school way back in the 2000s. In 2008 I wrote about it at Hack a Day, and then in 2009 I started Dangerous Prototypes, later Dirty PCBs and then organized Hack Camp Shenzhen for several years.
We were ready with an ARM/ICE40 Bus Pirate in 2019, but we all know what happened next. When the RP2040 launched we knew the perfect chip for a long term design had finally arrived.
I first gave Seeed Studio the sourcing guide (now seen in the components section of the hardware guide)in 2022. In early 2023 the PIC chip used in the Bus Pirate v3 became unavailable, so sent the sourcing guide again. This summer it was apparent there wasn't any movement on that front, so I decided to just do it myself.
That turned out to be the best available solution because we were able to do everything precisely how we wanted with our own team in Shenzhen. Not only that, it made quick release small batch hardware fun again, so we currently have 3 other boards out for assembly/FCC testing.
To clear up some concerns in the comments, yes I'm Ian from Dangerous Prototypes. There is in fact a Bus Pirate 5, it's shipping now. The weird AI spam links in comments are definitely not me, I'm sitting here sweating over I2C and UART modes.
We're not using the wiki/forum/etc at Dangerous Prototypes because all that software is so ancient and creaky I don't have the patience to fight with it endlessly. The new stuff, like docusaurus, discourse and ghost are fantastic and modern.
I know, yet another forum and login. I enabled github logins to help ease that burden a bit. It would be great to have some company here, but I'll just keep posting into the void for the time being

We'll have videos and stuff soon!