I mentioned some thoughts about the AUX cable on Twitter a few days ago. I really love the AUX port, it provides a way to connect a logic analyzer without probe hook acrobatics.
One thing I hate though: it's impossible to tell which tiny wire goes to which pin. The main probe cable has color coded, labeled ends, so I thought we should do something similar with the AUX cable. I chose not to use color coded wire because silicone coated wire comes in really ugly colors, and making our own custom wire would be really expensive with no guarantee that the colors would be any nicer.
The plan was to find someone to do a small custom run of the connector shrouds in white ABS plastic and then dye it colors to match all the other labels. Well, it turns out that a factory already had then in stock! Nobody believed we'd get the right part. I even looked to make sure there's no such thing as a one pin KF2540 (keyed) connector (also typically white color).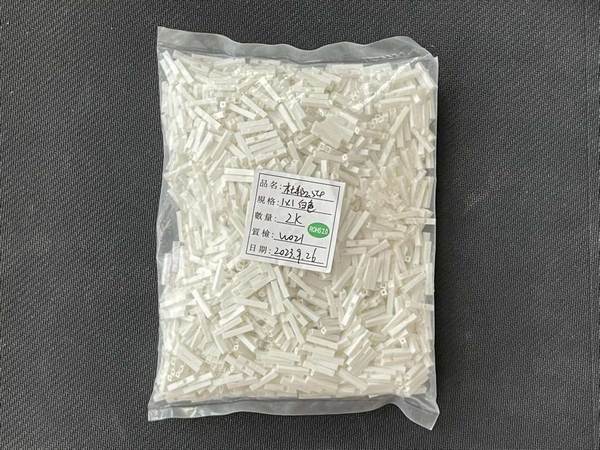 Well, it was the right part. Here's a bag of white ABS plastic DuPont style crimp housings. Next, we're going to send them to a (clothing) button dye factory to have them dyed in 8 colors. That won't happen until after the ten day holiday that starts tomorrow.